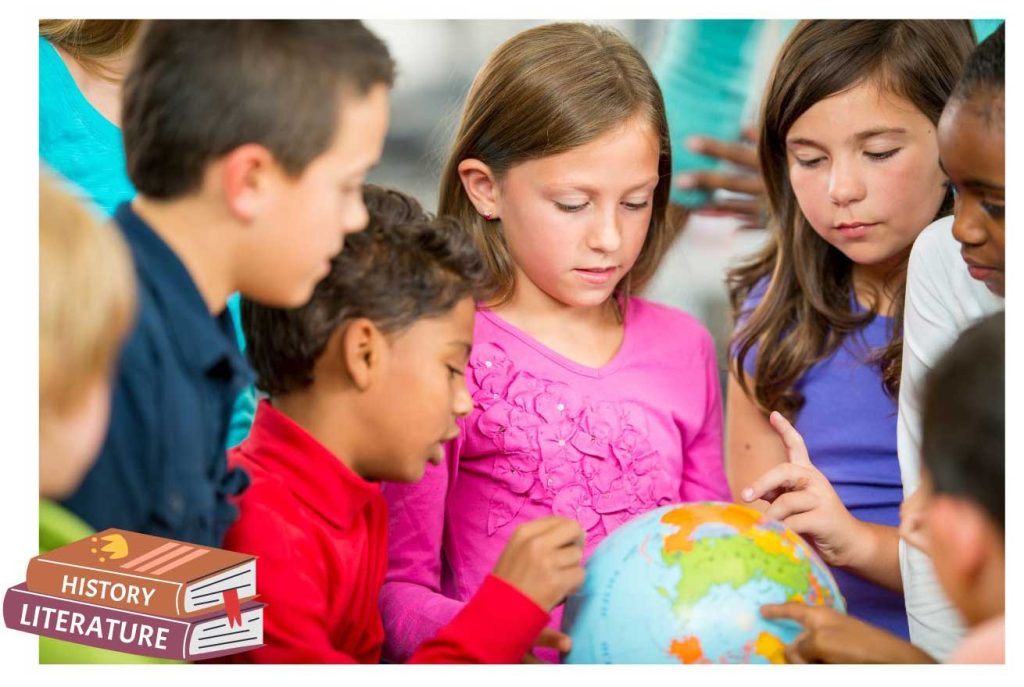 History Does Not Have To Be Boring
Does your student find history a bit dry and boring?  Do YOU find it a bit dry and boring to teach?  
When I was in school, I hated history. History textbooks seemed to be a lot of wars, dates, and names of long dead people. Memorizing facts about those wars, dates, and people was torture.  
I honestly didn't develop an interest in history until recently, when I started reading historical fiction, which led me to want to learn more about the facts surrounding the historical novels. Suddenly history didn't seem dry and boring anymore, and a light bulb went on. History can be fascinating if approached in the right way!
History That Kids Love
Last year I decided to create a history curriculum for kids that would be interesting to me when I was a kid. I scoured the library and book stores for books about history that were kid friendly and interesting to read. I found a combination of historical fiction, which really brings history to life, and well-written, nicely illustrated nonfiction that makes history approachable.  I combined that with short articles and written activities that help solidify the foundation of the story of history, and put it all together in a class called Exploration of American History through Literature.
Native Americans, Explorers, Revolutionary War, Gold Rush, and More
In this class, we start at the beginning.  We explore Native American tribes who were here before European explorers "discovered" America.  Then we learn about those explorers and what motivated them to risk their lives to explore unchartered lands.  Next up are the colonists who braved the elements to start new lives far from the luxuries of their homeland.  After that, we dive into the Revolutionary War, its causes, its battles, and its outcome.  Surprisingly, gaining our independence was just the beginning of America's challenges, as our forefathers struggled to create a brand new government that thirteen very disparate states could agree on.   Then came westward expansion, Lewis and Clark, the Oregon Trail, and the Trail of Tears.  We end with the excitement of the Gold Rush.
Real Books About Real Stories 
All of these periods of American history have fascinating stories behind them, and students read and learn about them from nonfiction books and novels, discuss them in class, and write about them in an interactive history journal.
If you'd like your student to learn the stories of our country's history in a way that sparks interest and curiosity instead of boredom and dread, this is the class you've been looking for.  For more information about how the class works, and a peek at some of the books and materials we use, please check out this introductory video.
And if you have questions about the class, please feel free to reach out.  I would love to take your students on a journey through the fascinating history of our country!
Frequently Asked Questions:
What grade level is this class for?
This is a mixed grade class, suggested for grades 4-6, but advanced third graders are welcome, and older students can benefit as well.
Where do we find the books for this class?
I provide links to the books if your want to purchase new or used versions, and most are available from the library.  You may need to do some advance planning and reserve them ahead of time to be sure they are available at the library when you need them.  
Do we really need all the books?
The real meat of this class comes from the books, so in order to get the most out of the class, I do recommend getting the books.  They are all books that can be read and enjoyed by the whole family—even parents will probably learn some new and interesting stories about our history.  
Why do you stop at the Gold Rush?
Many history classes just breeze through hundreds of years of history, giving just the bare bones facts.  This makes history boring.  In this class, we spend time on each period, so there just isn't time to cover all of our nation's history in just one year.  At some point, I would love to continue the story in a second class for slightly older students.
How much homework should we expect?
The homework mainly consists of reading and answering reading guide questions that help students focus on and understand what they are reading.  For most students, the homework shouldn't take more than an hour a week.  
Do you offer anything for younger students?
For second and third graders, I offer my Dive into Social Studies class.  
How do I enroll?
I offer this class live online through HomeSchool Campus.  All you need to do to enroll is go to HomeSchoolCampus.org, and sign up for a free account.  Then search for the class under my name, and enroll your student.
How do I pay for the class?
I am an approved vendor for most local charter schools.  I also accept Venmo, PayPal, and personal checks.  
Please reach out if you still have questions. I would love to help!