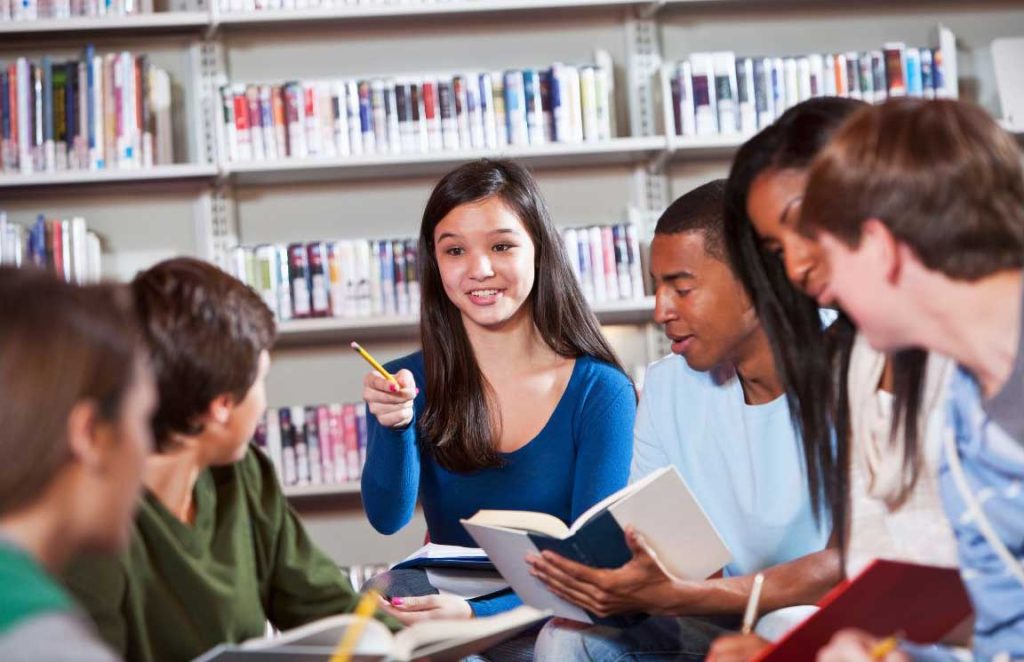 Looking for a great class for your middle school student next year?
My live online Literature and Composition Class for middle school students is a great choice!  Please read on for more information about this challenging, engaging class, and why literature is so important, especially in middle school.
Middle school is an opportunity for tremendous growth
Middle school is a very special time for students.  It is a time of transition and growth.  Middle school students are transitioning from childhood to adolescence, and it can be a very tumultuous and confusing time.  Middle schoolers begin to see things in a different way and question their assumptions, beliefs, and understanding of the larger world.  They also begin to develop critical thinking skills, which, when nurtured, help them expand their ideas and form deep, personal values.
How to encourage critical thinking through literature in middle school students
One of the best ways to help middle school students develop their critical thinking skills is through literature.  Good literature can provide students with a wide range of theoretical perspectives, historical knowledge, and cultural understanding.  Stories allow students to understand experiences outside of their own, glimpse viewpoints that are different from theirs, and become more open minded and empathetic.  Reading a variety of literature about people whose lives are different from theirs allows them to broaden their horizons and develop a deeper understanding of the world.
How I choose books for middle school students
When I choose books for my middle school classes, I search for books that are interesting, exciting, and thought provoking.  I have no patience for boring books, and I know my students don't either.  At the same time, it is important that the books we read are challenging, but not too challenging; are full of rich vocabulary, but are still relatable; and have important themes that spark interesting discussion and even debate.  In other words, I look for a great story line, well-developed characters, and themes that require a deep dive to fully uncover.
Literature develops reading, writing, thinking, and communication skills
While reading these books, we work on reading comprehension, critical thinking, writing coherent essays, and oral communication skills.  But my favorite activities are student presentations, where students get to flex their creative muscles and combine reading, writing, speaking, art, and technology.  We do several student presentations throughout the year, and students are given a lot of creative license and flexibility in how they present their work.  Whether they choose poetry, art, graphic design, technology, or some other type of creative endeavor, these presentations allow students to synthesize their reading, writing, and presentation skills in a way that is uniquely their own.
This year, my middle school literature students read Ground Zero, The Giver, The Cay, and The Outsiders.   Each of these books provided opportunities for students to read about young people facing challenges and overcoming obstacles, fears, and prejudice, while experiencing  personal growth. The books' settings vary widely, including the Twin Towers on 9/11, a small village in Afghanistan in 2019, a dystopian futuristic society, a deserted island during the chaos of World War II, and a 1960s clash between the privileged and the poor; but every book provides students with fascinating characters and themes to explore, discuss, and write about.
Student presentations about literature
After reading The Cay, students were assigned a presentation about the book's metaphor of blindness and how the author used this metaphor to depict the theme of prejudice.  And prior to reading The Outsiders, students were assigned a presentation about 1960s culture, which involved researching pop culture and the political and social issues of that tumultuous decade.  These presentations required students to use higher level critical thinking skills to analyze, research, and present their findings using creativity, technology, and oral presentation skills.  I am always incredibly impressed by the work students do in these presentations, and I hope you will take a few minutes to appreciate some excerpts from their work.
Fall 2023 Middle School Literature and Composition Class
I have been teaching Middle School Literature and Composition at Home School Campus since 2019, and I'm excited to offer a combination of student favorites and new materials in fall of 2023.  We will begin the year with Just a Drop of Water by Kerry O'Malley Cerra.  I love that this book teaches students about 9/11 in a way that is both real and uplifting.
"Tackling a difficult topic, Kerry O'Malley Cerra captures the mood of the country right after September 11 in a way that's not frightening or sensationalized. This well-told, poignant novel about prejudice, school bullying, and best friends should spark discussion and capture the hearts of young readers for a very long time." —Augusta Scattergood, author of Glory Be
"Kerry O'Malley Cerra has written a novel that is both brave and true. In showing us the darker sides of ourselves when confronted with tragedy and fear, her characters lead us to the light." —Laurie Calkhoven, author of Michael at the Invasion of France, 1943
"Just a Drop of Water brings this generation's young readers a glimpse of
September 11 that is both thought-provoking and real." —Caroline Starr Rose, author of May B
After Just a Drop of Water, we will read the Young Reader's Edition of I Am Malala, the bestselling memoir by Nobel Peace Prize winner Malala Yousafzai.
"In this Young Readers Edition of her bestselling memoir, which has been reimagined specifically for a younger audience and includes exclusive photos and material, we hear firsthand the remarkable story of a girl who knew from a young age that she wanted to change the world — and did."
"Malala's powerful story will open your eyes to another world and will make you believe in hope, truth, miracles and the possibility that one person — one young person — can inspire change in her community and beyond."
How do I enroll my student?  
My Literature and Composition Class for Middle School students is offered live online through HomeSchool Campus. Enrollment begins in April. To enroll your student, go to HomeSchoolCampus.org, and create a family account, then search my classes under Instructor/Holly Dodson.  I accept charter school funds as well as private pay.  
If you have questions, please reach out!  The best way to reach me is by email at holly.dodson@verizon.net.